Do you get bored while staying indoors? Not much into video games like the current youth? Do you want something a bit more traditional and old-school indoor game? Then why don't you read this post to learn about the best foosball table you can buy in 2023?
While foosball is a fun game to play with friends and family, it also acts as a great piece of decor for your house. Therefore, read this post before you buy one.
7 Best Foosball Table That You Can Buy In 2023
If you are looking forward to buying the best foosball table for home use, then here are seven great choices you must keep an eye out for!
1. Barrington Billiards Company Allendale 56" Foosball Table
Price: $740
Premium pool table producers Barrington Billiards Company is my top pick for the best foosball table in 2023. The Allendale has a sturdy wood frame with lots of metal reinforcing on the legs and hidden levelers for added longevity. It adds to robustness without losing looks. It also conforms to competition regulations regarding size.
The playing surface, supported with black legs, contrast with the dark oak wood stain to create an attractive design that complements practically any interior design style. The counterbalanced players are simple to control because of their hollow rods with non-slip handles.
The neutral black and gray players on this foosball table are certainly a plus, sling with the vintage score beads for the booners amongst us. You should have a second person available when assembling this table because it can be challenging.
| | |
| --- | --- |
| PROS | CONS |
| Solid wooden frameElegant designNon-slippery handlesPlayers are counterbalanced | It needs to be assembled by two peopleIt has zero telescopic rods |
2. ESPN Arcade Style Foosball Table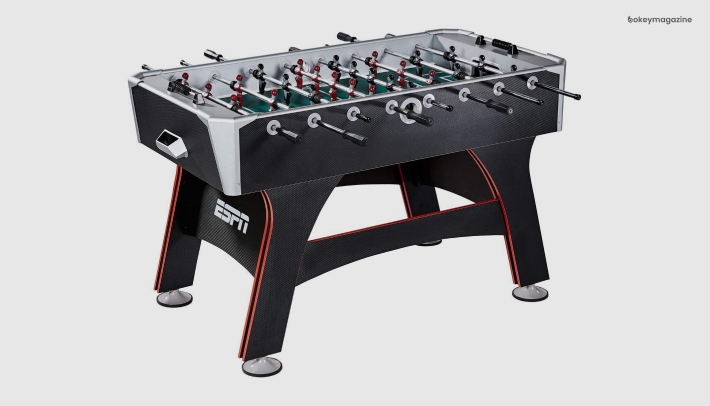 Price: $480
It should not be surprising that ESPN has a unique foosball table that is both strong. and portable for your game room. This table needs to be put together, but it's a simple operation because it is made of plastic and composite board with chromium-plated rods.
I especially loved the customizable leg levelers on this table, which provide stability and fair play on any flooring. When compared to conventional, stockier foosball players, the 26 players on this table are likewise unusually shaped.
This foosball table is a fun and realistic alternative for the game night, thanks to the traditional bead-style system for scoring and a comprehensive field configuration. This is the best foosball table under $500.
| | |
| --- | --- |
| PROS | CONS |
| Durable frameThe levers are luggedThe player shapes are pretty unique | Tedious assembly process |
3. Pottery Barn Rustic Mahogany Foosball Table
Price: $1,900
This 58-inch Pottery Barn best foosball table is perfect for you if you value elegant design and classic finishes. It is incredibly strong and resembles a grand, upright piano thanks to its solid, kiln-dried pine construction and beautiful mahogany finish.
In addition, unlike most other foosball table manufacturers on this list, Pottery Barn delivers and sets up this table in your room of choice when you order it.
The solid construction ensures it lasts for a lifetime, and the rustic style is elegant yet timeless. If you decide to move this foosball table, it is quite hefty at 200 pounds. I also advise being cautious around the glassy play surface, which could break if it gets hit.
| | |
| --- | --- |
| PROS | CONS |
| Made with tough kiln-dried pine woodThe steel rods are all plated for extra supportWill be delivered fully assembled | Very heavy |
4. KICK Monarch 48" Folding Foosball Table
Price: $280
This Foosball table from Kick Monarch is my best option if you're low on the room and you want a foosball table that can be pushed aside when it's not in use. This foosball table folds up without any hassle and has two wheels so it can be moved easily into a corner. It is a regular playing size. Additionally, I appreciate the fact that it's covered by a lifetime warranty in the event of any manufacturing defects.
In my opinion, it would be ideal for a home with smaller rooms that also serve as an entertainment area. This table is offered in three finishes: gray, black, and brown, so you can select the one that most closely resembles the design of my home. The risk of pinched fingers is the only thing that makes us hesitant about this table.
| | |
| --- | --- |
| PROS | CONS |
| The finish is scratch-resistantThere are three different coloring optionsHas lifetime warranty | Difficult for children to play |
5. Giantex 2-In-1 Mini Game Table For Foosball And Air Hockey
Price: $80
I advise looking at a multi-game system like this one from Giantex unless you want to keep kids entertained for hours. A miniature foosball table is on one side, and an airless hockey table is on the other. You can start playing by simply flipping the game over to the side you want to use.
This table has a complex setup process. Therefore, I advise securely keeping any easily lost pieces for each game. This tabletop game can get conveniently packed while not in use -perfect for smaller homes.
While the design of this best foosball table for kids is excellent for children, it might not be the ideal choice for adults searching for a multi-game console.
| | |
| --- | --- |
| PROS | CONS |
| Small size – can be placed anywhereEasy assemblyThe player designs are well detailedAffordable price | Primarily made for children (hence the smaller size) |
6. Giantex 27" Mini Foosball Table
Price: $70
One of the best foosball table that comes in a smaller size, which weighs only 12 pounds. It's so small and light, it can be set up on the floor, a coffee table, or a dining table. Steel rods, a strong wood frame, and supple hand grips are all features. Before they can reach a full-size table, this miniature version is a terrific way to introduce kids of this generation to foosball.
It is also less expensive than a full-sized table while maintaining all the necessary components for entertaining and productive gaming. Additionally, when not in use, this table is simple to store. It may be difficult to fully assemble this table, so I advise having a helper close by.
| | |
| --- | --- |
| PROS | CONS |
| Affordable priceVery lightSmall size – can be placed anywhere | Tedious assembly process |
7. Steve Silver Co. Diletta Foosball Coffee Table
Price: $450
You can put the Diletta, a multipurpose foosball-coffee table hybrid, in the center of your dining room. This table was designed by Elizabeth Herrera, a decor designer, as a stylish yet functional choice. I like this table since it has five casters for convenient mobility. Additionally, it's constructed of sturdy materials like iron, wood, and tempered glass.
The multipurpose form of this foosball table is a fantastic substitute for a larger, bulkier foosball table. Whether you decide to use it as a TV room coffee table or position it in a separate gaming room in my house, it's one of the best foosball table.
According to Herrera,
"This is ideal for tiny rooms that can't accommodate a typical foosball table and are a special touch that will easily blend in with any furniture and decor."
| | |
| --- | --- |
| PROS | CONS |
| The design is multifunctionalHighly durableHas caster wheels | Must sit on the floor to play |
Conclusion
If you want to purchase a foosball table in 2023, I recommend buying any of the aforementioned foosball tables. All seven of these foosball tables are amazing choices since they come in various shapes and sizes. Most importantly, they have varied costs so that you can fit them in your budget no matter how low or high you go!
Explore More: