"I got this feeling on the summer day when you were gone…" Yesssss, Summer's here, and finally, finally, we can start believing less is truly more! The smell of trendy summer outfits and the bliss of trying them all out! Your wardrobe has been crying all this while, and finally, you can calm your wardrobe down – because a new season calls for new trends!
So without wasting any further time, let's dive straight into the top summer trends and the best summer outfits that you can't do without in 2022! Scroll down and find out what's trending on the runway this season!
Best Summer Outfits That You Can Choose In 2022
Men may come, and men may go, but outfits? Outfits are forever! Scroll down and find out the top summer fits of 2022!
1. Micro Skirts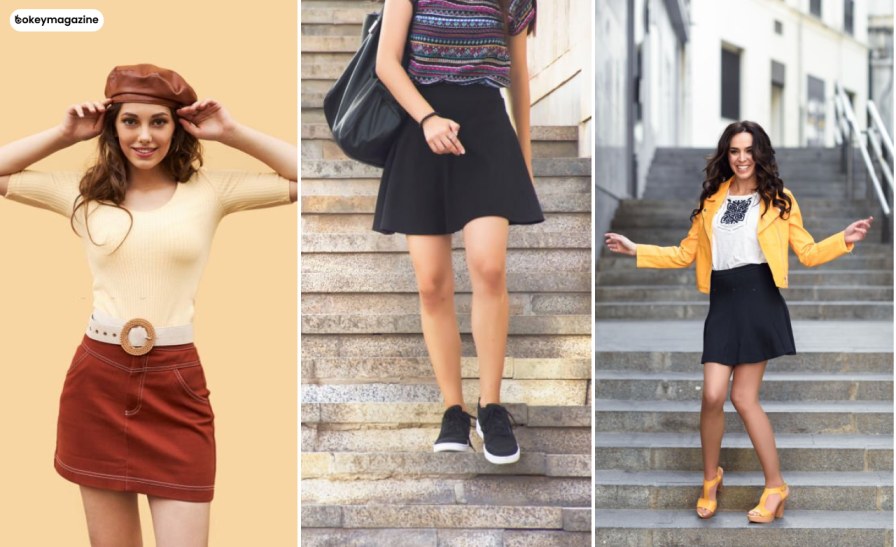 If you have been looking for cute summer outfits, then you will be happy to know that micro skirts are not just back but are trending at the moment. As we mentioned in the beginning, summer is all about believing in the minimalist idea that less is more! Thus, micro skirts seem to fit the bill and have turned out to be pretty popular on the runways!
How To Rock A Micro Skirt?
Wear a top that hugs your body and shows off your assets right. Don't be color blind and opt for contrasting shades for the best effect.
Pair it with your converse shoes or heels depending on what works best for you – comfort or sex appeal!
2. Saturated Shirts
Solid shirts. Bold shades. Tell us are you doing hot men shit yet? Because this is hot men's shit, and there's nothing better than a saturated shirt for making a bold statement at work. We get it you want your back-to-office to look bold, and what's better than these crazy shirts for your summer work outfits?
How To Rock A Saturated Shirt?
Always opt for bold shades like deep violet, chartreuse, and tangerine.
Wear it with some basic bottoms and heels for making the most out of this look.
Accessories are the key to rocking this look but don't overdo it. For instance, if you are going for big earrings, keep your makeup minimal!
3. Baggy Jeans
No matter how much Generation Z tries to convince you that growing your eyebrows to that awful 90's length is quirky and cool, we would suggest not to fall for it! (to each her own, though…) However, what Gen Z got correct is their love for baggy jeans, and we can't agree with them – you can run around the town wearing something comfy and trendy!
How To Rock Baggy Jeans?
If you are looking for summer casual outfits, then baggy jeans are your go-to outfit choice! Just remember to pair it with a preferably body-hugging crop top for flaunting that casual-yet-very-hot look!
Always wear boots, but then it's summer, so slip-on or sneakers are your best alternative.
4. Y2K A.K.The Year 2000
You already know that trends always come back. So it was only a matter of time before the Y2 K-inspired outfit ideas for women were coming back! The 2000s were a time of transformation, and so much was happening with the beginning of a new millennium. From candy-colored sunglasses and asymmetric hemlines to butterflies-inspired prints, everything is back and trending!
How To Rock The Y2K Trend?
Remember, the motto is 'less is more which practically means you can't overdo it. So, for instance, if you are wearing asymmetric hemlines, then you need not pair them with prints or bold colors.
Secondly, whatever you are wearing, make sure your shoes match! An outfit becomes #ootd only with the help of great shoes!
5. Knit Tops
Of course, Knitwear is not the first alternative when it comes to checking out summer clothes for women. It's way too warm for knit tops. But top designers in the world like Chloé have changed the whole idea of knitwear, launching them as summer outfits and making us all excited! You could check out a few crochet dresses or knit tops that allow the perfect amount of airflow – cute and comfy.
How To Rock Knit Tops And Crochet Dresses?
If you are opting for knit tops, make sure you pair them with basic bottoms and cool shoes.
Don't forget to go big on accessories or your makeup – don't go big on both simultaneously.
The same goes for people opting for crochet dresses!
6. Cut-Out Dresses
Cut-out dresses have been ruling the runways for some time. Popular celebrities like Kourtney Kardashian, Dua Lipa, and Jennifer Lopez have all been spotted rocking cut-out dresses. Thus, the appeal is just the right amount. Perfect as one of the summer date night outfits we can't help recommending, there's no way you will not look great in a beautifully bold cut-out dress.
How To Rock A Cut-Out Dress?
Cut-out dresses are so bold and hot that you probably just need some chic makeup, a tiny sling, and a pair of stilettos.
You can always add a little bling to it with some accessories, or you could always use your makeup for the same.
7. LWD (Little White Dress)
Gone are the days of your little black dress, and it's the season of little white dresses! So, what's chicer than wearing a little white summer dress for a casual brunch date this weekend? One of our top cute outfits for the season, little white dresses are good as transition outfits. Simply add a trench coat and some boots for transitioning to Spring!
How To Rock A LWD?
Accessorize but try to be as minimal with your makeup and hair as possible.
Wear flats or platform heels depending on where and when you are going.
8. Tracks And Joggers
At the moment, it's all about what's unexpected in fashion. And there's nothing cooler than pairing your comfortable high-waisted joggers or track pants with a chic sequined tank top! A lot of people are experimenting with regular fashion and athleisure for creating casual summer outfits for women!
How To Rock Track Pants And Chic Tops?
The whole concept depends on contrasts, and if you break that rule, you might as well give this trend up!
Whatever you wear, make sure your top brings out what your basic track bottoms are unable to!
9. Flared Pants And Bold Blazers
Ditch them shirts this summer and don a blazer. Pair it with flare pants and rock the whole Bianca Jagger vibe at work! If you have been wondering if shoulder pads are cool enough to be on the list of summer outfits for women, they totally are!
How To Rock A Suit?
Go for a sleek look. If you have long hair, tie it up in a high ponytail and if you have short hair, best to comb and arrange your locks. Remember, you gotta look sleek!
You have to wear stilettos. But if that's not comfy enough for you, try to opt for Mary Jane or Platform heels!
10. Printed Shorts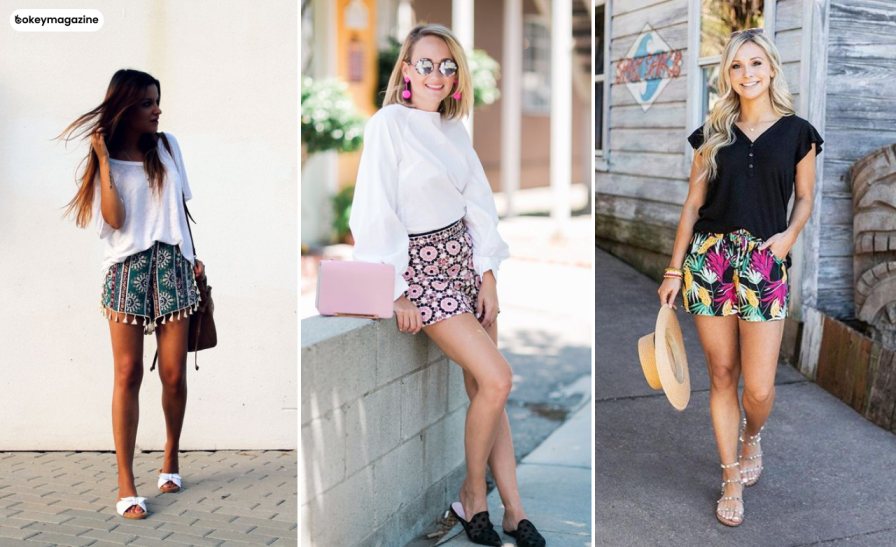 There is nothing better than printed shorts for the summer! Wear them to work, dance in them at parties, enjoy your vacation in them – there's so much you could do with shorts. And if you don't like prints, you can always opt for the bare and basic ones.
How To Rock Printed Shorts?
If you are opting for high-waisted printed shorts, pair them with a nice plain blouse and some minimal makeup.
You can wear any type of shoes, depending on how you are styling your shorts!
Frequently Answered Questions (FAQs)
1. What Is The Summer Style For 2022?
The top summer trends for 2022 are as follows, 
i. The 70s and 90s fashion
ii. Y2K fashion
iii. Bold shades like Green and Purple
iv. Asymmetric hemlines and prints
2. Are Skinny Jeans Still In Style In 2022?
After spending an entire decade in style, skinny jeans are on their way out of style. 20222 is inspired by baggy jeans, boyfriend jeans, and even low-rise jeans – the 2000s are back with a bang!
3. What Do Teenage Girls Wear In Summer?
Teenage girls can wear the following in Summer,
i. Flower dresses
ii. Culottes pants
iii. Simple summer outfits
iv. Denim shorts
4. How Can I Look Stylish This Summer?
Wear what's trending, hydrate, and don't forget to love yourself. If you are not confident about yourself, no matter what you wear, it won't make you happy. Thus, self-love and confidence are the two most essential accessories this Summer.
What Are The Best Plus-Size Summer Outfits?
The best plus-size summer outfits are as follows, 
i. Straight-leg or bootcut pants 
ii. Waist-cinching silhouettes
iii. A-line skirts
iv. Tailored outfits
Final Thoughts:
Now that you know which summer outfits will make it to your wardrobe this year, what are you waiting for? Get out there and start shopping now! And in case you need similar information on summer outfits for men, don't forget to let us know in the comments below!
Read Also: