Are you a foodie? And by foodie, we mean a connoisseur of good food! So, if you love everything about food and enjoy fancy dining at some of the most expensive places in the whole world, then you have come to the right place. But have you wondered which is the most expensive restaurant in the world?
We know the answer, but we decided to make this article about more than one expensive restaurant. So, we managed to find the most expensive places to dine in the world. All you have to do is scroll down and keep reading to find out about these expensive restaurants.
Looking For The Most Expensive Restaurant In The World? Here Is The Top Eight!
While locating the most expensive restaurant in the world, we found so many other fancy restaurants. All the places we have mentioned below serve impeccable food, but they have one big thing in common – all these places will cost you a kidney if you are in your 20s working hard to pay for your necessities.
From extravagant luxury sushi served in Tokyo to fancy underwater dining experiences in the beautiful Maldives, scroll down to read about the most expensive dining places in the world.
Bon Appétit!
1. Sublimotion (Ibiza, Spain):
Cost For One: 2,380 Dollars
Sublimotion is the most expensive restaurant in the world. It will cost you a whopping 2380 dollars to enjoy their tasting menu of twenty courses. The restaurant only stays when it's summer in Spain – so there are only a few months when the place even stays open. The place is run by a talented Paco Roncero, a 'Michelin two-star chef!'
In case you do get a reservation here during summer, then you will be stumped with the entertainment and the complete experience.
2. Per Se (New York, United States):
Cost For One: 680 Dollars
When you are in New York, if you do end up googling 'expensive restaurants near me,' then you will definitely come across Per Se. The restaurant first opened its doors almost two decades ago, in 2004. Owned by Thomas Kellers, Per Se is a 'three-star Michelin restaurant,' which also explains the cost.
Known for their impeccably delicate presentation, followed by exceptionally exquisite flavors, Per Se mainly serves American and French cuisine. With stunning views of Central Park and Columbus Circle, the restaurant has around nineteen tables.
3. Masa (New York, United States):
Cost For One: 595 Dollars
Headed by the famous chef Massa Takayama, this restaurant in New York is on its way to becoming the most expensive restaurant in the world – but there's still plenty of time before it can reach the levels of Sublimotion in terms of costs and the value for money aspect. Masa is known for authenticity and simplicity.
Surprisingly, you won't find any tasting menu here – the chefs here prepare food with ingredients available just for a single day.
4. Restaurant De L'Hôtel De Ville (Crissier, Switzerland):
Cost For One: 415 Dollars
In 2019, La Liste voted Restaurant De L'Hôtel De Ville under the list of 'Top Restaurants of 2019.' Currently, the restaurant has three Michelin stars, with its fancy kitchen is led by a famous chef called Frank Giovani, whose only aim is to give his guests an amazing dining experience.
It's the dining experience and the exceptional food that makes Restaurant De L'Hôtel De Ville in Crissier, Switzerland.
5. Guy Savoy (Paris, France):
Cost For One: 385 to 626 Dollars
If you are searching for 'what is the most expensive restaurant in the world' on Google, then stop right now. Instead, let's talk about Guy Savoy. While there are two restaurants with the same name, one in Paris and the other one in Vegas, with both places gaining several Michelin stars, you have to check out the flagship restaurant, located in Paris.
Just a little information – Guy Savoy trained Gordon Ramsey. He also owns around four other restaurants alone in France, all of which are running successfully.
6. Aragawa (Tokyo, Japan):
Cost For One: 260 to 370 Dollars
While talking about expensive restaurants in the world, there was no way we could have forgotten Aragawa, located in Tokyo. Well known for their mouthwatering beef dishes such as Wagu and Kobe, Aragawa is strangely located inside an old building and that too in the building's basement.
In the case of this restaurant, you have to remember that you are technically not paying for the environment – you are paying for the food.
7. Ithaa Undersea (Maldives):
Cost For One: 320 Dollars
Have you ever dreamt about dining at the first ever underwater restaurant in the world? Well, now you can! Ithaa Undersea is located in the Maldives, and it will cost 320 dollars per person. But if you are up for that, then trust us, you will never regret it, considering it's an experience of a lifetime.
The best part? The restaurant can accommodate only about fourteen guests. So, if you like restaurants that aren't crowded, then this one is perfect!
8. Maison Pic Valence (Paris, France):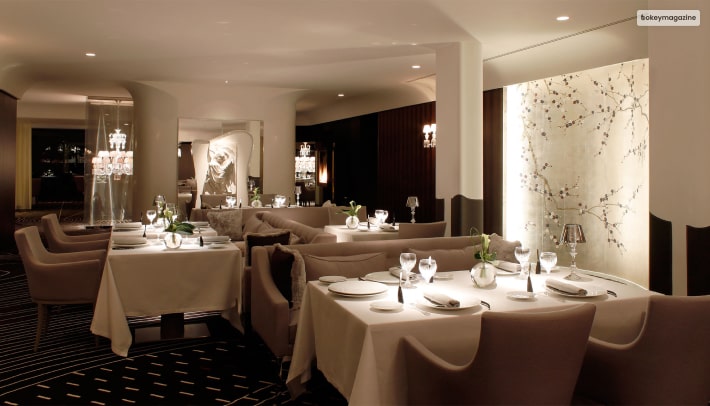 Cost For One: 445 Dollars
Another Parisian favorite, Maison Pic Valence, is one of our favorite restaurants when it comes to fancy dining. It's a generational restaurant and is currently headed by Sophie Pic. If you haven't heard about Sophie Pic before, let us tell you how she is one of the few great female chefs to lead a restaurant with three Michelin stars.
Currently, Maison Pic Valence is in its 130th birthday year, and if you have the money but you haven't been here, then you MUST!
Frequently Asked Questions: (FAQs):-
Check out the frequently asked questions related to the most expensive restaurant in the world mentioned below.
1. Which Is The World's Most Expensive Restaurant?
Ans: Sublimotion is the most expensive restaurant in the whole world. Have you heard about the Ibiza island, located in Spain? Ibiza island is also home to the beautiful Hard Rock Hotel, and this Hard Rock Hotel is where you will find the world's most expensive restaurant, Sublimotion.
2. What Is The Number 1 Ranked Restaurant In The World?
Ans: The restaurants that were ranked number one in the past five years are as follows,
⦿ Geranium (2022),
⦿ Noma (2021),
⦿ Mirazur (2019),
⦿ Osteria Francescana (2018), and
⦿ Eleven Madison Park (2017).
3. What Is The Most Expensive Restaurant In The Us In 2023?
Ans: When Masa raised the counter prices for their Hinoki and Omasake in April 2022, the restaurant then became the most expensive food place in the United States. While Hinoki costs a whopping 950 dollars, Omakase counter services will cost you 750 dollars.
4. Where In The Us Is The Food Most Expensive?
Ans: You will find the most expensive food in the United States in the following place,
⦿ Honolulu, Hawaii.
⦿ San Francisco, California.
⦿ Kodiak, Alaska.
⦿ Juneau, Alaska.
⦿ Oakland, California.
And It's A Wrap!
So, now you know which is the most expensive restaurant in the world. And not just that, you know more than that. In case you can't afford Sublimotion yet, then you can always check out some other restaurants mentioned above. We understand that you might not be ready to pay over two thousand dollars for dinner, but you can definitely pay a few hundred. Tell us what you think about these restaurants. Do you think these places are overpriced? Don't forget to share your experiences (in case you do have some experience) in the comments below.
Have A Look:-