You will need to travel a special journey through Switzerland if you want to reach Schloss Schauenstein in Fürstenau. To reach the place, you will need to take a flight to the Swiss capital, Zurich, and then take a three hours drive. Once you reach the town, you will see only one street, which will take you to this unique restaurant in Switzerland.
In this article, you will get to know the various details of an incredible restaurant in Switzerland named Schloss Schauenstein. Apart from that, you will know about the ambiance of the restaurant, its surroundings, the food options and menu, and the location.
Furthermore, we will give you a slight idea of the price of food in the restaurant. You will also get to understand this restaurant better with the reviews of some customers.
Schloss Schauenstein – Ambiance
Once you reach the place in the morning, you will be dumbfounded by the amazing scenery surrounding the area. You will get to see an 800-year-old castle. The chef in the restaurant, Andreas Caminada, is quite young and got famous only in just a few years. With the restaurant, he received three Michelin Stars and 19 Gault Milau. Apart from that, in the year 2019, it was ranked #50 in the 'World's 50 Best Restaurants'.
You will need to reserve a table for yourself before since it is not easy to reserve one. There are only five people in the kitchen. There are only 6-7 tables for lunch, and there are only a few more for dinner.
According to a major food blogging website, Accounting for Taste, the chef of the restaurant made unique combinations of the food and its ingredients and "often transformed the same ingredient and flavor combinations in multiples ways, creating varied taste sensations in a single course."
Along with the remote location, and local food, the restaurant provides a unique experience for travelers. No wonder why many consider it one of the best restaurants to visit in the whole of Europe. The lengthy tasting menu of the restaurant only adds to its uniqueness of it.
Schloss Schauenstein Menu And Food Price
As you see the menu, you will not find the typical Michelin French tasting menu in the restaurant. Instead, you will find unique food options that Chef Andreas Caminada creates using local ingredients. Furthermore, there are many courses available in a meal.
According to the official website, "Each menu price includes a donation of 2 francs to the Fundaziun Uccelin, our foundation for the promotion of young gastronomic talent."
The Prices of the food options at Schloss Schauenstein are:
For both Lunch and Dinner
3 courses
CHF 255 /-
4 courses
CHF 280 /-
5 courses
CHF 305 /-
Schloss Schauenstein – Location
Since we have already described the location of Schloss Schauenstein, here we will give you the address, phone, email, and opening hours of the place.
| | |
| --- | --- |
| Address | Schloss Schauenstein, Obergass 15, CH-7414 Fürstenau, Switzerland. |
| Phone | +41 81 632 10 80 |
| Email | kontakt@machenstein.ch |
| Opening Hours | – Lunch from Thursday to Sunday from 12 p.m.- Dinner from Wednesday to Sunday from 7 p.m. |
Schloss Schauenstein – Customer Reviews
In this section, we will provide you with some interesting and honest customer reviews regarding Schloss Schauenstein and what they have felt about the location, ambiance, and food of the place. Most of the customers offered good reviews since there is hardly anything negative about Schloss Schauenstein. Here are some reviews:
Review 1:
Review 2:
Review 3:
Review 4: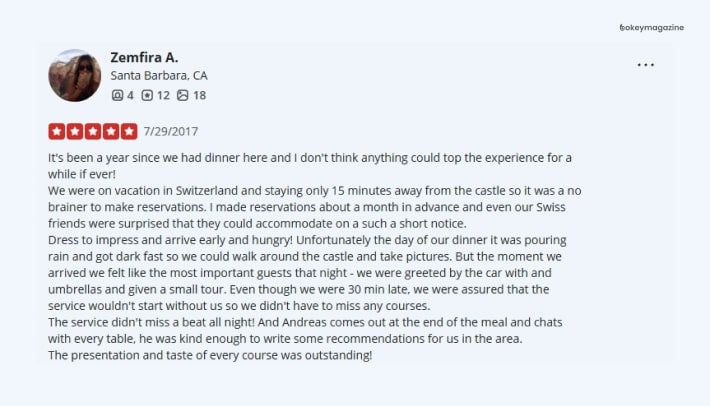 Review 5:
Summing Up
 In this article, we have provided you with a brief idea of a unique Swiss restaurant named Schloss Schauenstein. Present in an incredible location, this restaurant has been able to make many food lovers and travelers happy. If you are trying to visit this restaurant on your upcoming trip to Switzerland, consider noting down the address of this restaurant.
Apart from that, if you are one of those people that looks for an amazing experience along with unique food, consider visiting Schloss Schauenstein at least once in your lifetime. You can also visit the restaurant's official website at https://www.schauenstein.ch/ if you want to know more details about the restaurant.
Related Reading: