Are you suffering from high cholesterol? Well, then, it's bad news. It is not okay to eat egg everyday as it might risk your heart. But if your health conditions are normal, an egg can work as an immunity power and energy through potassium, B vitamins, and folate.
The egg is good for heart health if you consume 1–2 eggs daily, depending on the overall diet and cholesterol intake. However, being in the middle of the young generation, which is more concerned about entertainment and showing off.
Well, this was not a judgemental approach, but the fact is that we need to be more concerned about healthy approaches to be fit and focus on the necessary things in our life.
However, being fit mostly depends on nutrition part.
How do we get that?
Well, we get nutrition from food sources. Among all food sources, if you eat egg everyday it will provide you with different sorts of health benefits. Well, there is much to explore regarding eggs.
Is It Better To Consume Only Egg Whites?
One large egg contains 200 mg of cholesterol.
Considering only egg whites does not have much significant evidence of benefit. At the same time, people who consume the whole egg have better-controlled inflammation.
Egg white is a good source of lean protein, while the cholesterol is mainly concentrated in the yolk.
Well, you should not avoid the yolk part completely because it contains iron, carotenoids, and vitamin D apart from cholesterol. So, if you are not at elevated risk of heart disease, it's better to go for whole eggs.
There is no doubt that egg whites are good for health, but if you can consider a low-cholesterol diet, do not hesitate to consume egg yolks as well.
Nutrition Breakdown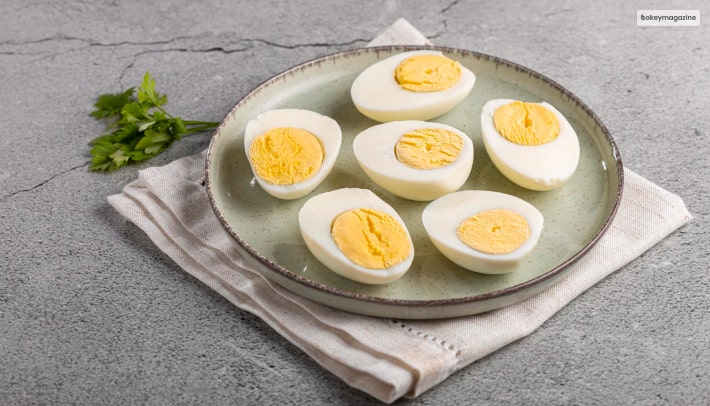 Whether it's breakfast, lunch, or dinner, we love to keep eggs on our diet. However, not everyone is fond of eggs; they still go for egg whites to keep protein without consuming cholesterol.
Well, if you know the distribution of nutrition in an egg, it will be better to decide whether or not to eat egg everyday.
Do you know the correct quantity of how much sodium in an egg we consume?
Well, one egg contains 70 milligrams of sodium. So, sodium in eggs is a prominent option to go for a healthy diet. However, this is not the end of nutrition in an egg.
What else?
67 milligrams of potassium,
0 carbohydrates.
6 grams of protein.
200 mg of cholesterol.
Is there anything left to mention?
If you consume 2 eggs everyday, you might want to know the number of calories in 2 eggs. Well, two eggs contain roughly 150 calories.
Apart from that, you are also missing the vitamin part in an egg. So, if you eat eggs everyday, your body will also consume vitamins A, D, and B12 and choline as well.
Conditions Of Body While You Eat Egg Everyday
There is no particular healthiest way to eat eggs. However, boiled or scrambled egg whites are preferred by many as it has no cholesterol and 0 fat.
Well, in terms of price, eggs are one of the most affordable proteins available in the market. It is not very costly, but the health benefits, including various nutrients, are high.
We do not get much time to read about eggs, but we eat them whenever we get the chance. But here you can read out the whole concept, including its health benefits. The better you get aware, the more you get accustomed to eating eggs in the proper ways.
Well, the major question here is, what happens to your body if you eat egg everyday?
Don't worry! We have got your quarries. Let's find out the answer here.
You will feel full and energized.
You will get healthier hair and skin.
Eat egg everyday to get better vision.
It helps to increase our bone health.
If you eat egg everyday, it will be 69% of the total cholesterol needed in the body.
These are the prominent things that you may become accustomed to while eating eggs everyday. Well, before you eat egg everyday, try to understand your whole diet in a day. Do not consume too much cholesterol-friendly food if you want to eat egg everyday. Measure your diet and be free to eat eggs.
Read Also About: